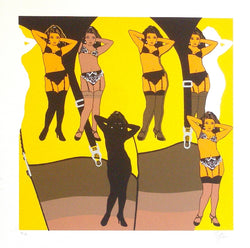 Enrique CATTANEO, "Emulando a Allen Jones", Silkscreen (CAT311)
Author: Enrique CATTANEO.
Title: Emulando a Allen Jones.
Medium: Limited Edition Print.
Technic: Silkscreen.
Image size: 32 x 32 cm. (12½ x 12½ in.).
Overall size: 38 x 38 cm. (15 x 15 in.).
Edition of: 40.
Year: 2010.
SKU: CAT311.
Price: $250 USD.
Signed: Yes.
COA (Certificate of Authenticity): Yes.
Condition: Excellent.
Framed: No.
Message us with any questions.