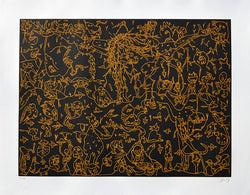 Sergio HERNÁNDEZ, " Sin titulo", Etching (HER188)
Author: Sergio HERNÁNDEZ.
Title: Sin titulo.
Medium: Limited Edition Print.
Technique: Metal engraving.
Procedure: Sugarlift.
Image size: 58.5 x 79 cm. (23 x 31 in.).
Overall size 74 x 94 cm. (29 x 37 in.).
Paper : Velin Arches 300 g.
Edition of: 30.
Year: 2015.
SKU: HER188.
Price: $3,150 USD.
Signed: Yes.
COA (Certificate of Authenticity): Yes.
Condition: Excellent.
Framed: No.
Message us with any questions.