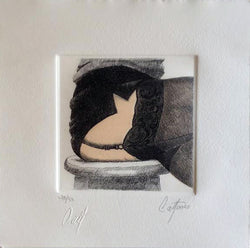 Enrique CATTANEO, "Gato IV", Mixed (CAT317)
Author: Enrique CATTANEO.
Title: Gato IV.
Medium: Limited Edition Print.
Mixed technique.
Image Size: 11 x 11 cm. (1¼ x 1¼ in.).
Overall Size: 19.5 x 19.5 cm. (7¾ x 7¾ in.).
Support: Paper Velin Arches 300 g.
Edition of: 50.
Year: 2010.
SKU: CAT317.
Price: $50 USD.
Signed: Yes.
COA (Certificate of Authenticity): Yes.
Condition: Excellent.
Framed: No.
Message us with any questions.