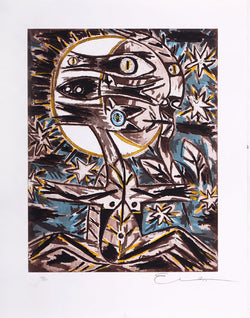 Ever FONSECA, "Night of fish", Silkscreen
Author: Ever FONSECA
Title: Night of fish
Medium: Limited Edition Print
Technique: Mixed, Silkscreen
Image Size: 50 x 40 cm. (19¾ x 15¾ in.)
Overall Size: 66 x 51 cm. (26 x 20 in.)
Support: Paper Gvarro Biblos 250 g.
Edition of: 50
Year 2002
SKU: FON-101
Price: $ 400 USD
Signed: Yes
COA (Certificate Of Authenticity): Yes
Condition:  Excellent
Framed: No
Message us with any questions.
Autor: Ever FONSECA
Título: Noche de peces
Medio: Obra Gráfica Original
Técnica: Serigrafía
Dim. imagen:  50 x 40 cm. (19¾ x 15¾ in.)
Dim. soporte: 66 x 51 cm. (26 x 20 in.)
Soporte: Papel Gvarro Biblos 250 g.
Edición: 50 ejemplares
Año: 2002
Catálogo: FON-101
Precio: $400 USD
Firmado: Sí
COA (Certificado de Autenticidad): Sí
Condición: Excelente
Enmarcado: No
Envíenos un mensaje con cualquier pregunta.