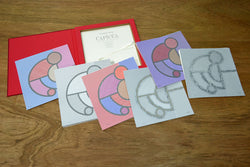 Vicente ROJO, "Capicúa" (portfolio), 2013
Author: Vicente ROJO.
Title: Capicúa.
Description: Contain 6 works by Vicente Rojo and palindromes from Augusto Monterroso's essay "ONIS IS ASESINO" included in Movimiento Perpetuo, 1972: Joaquín Mortiz. 
Medium: Limited Edition Print.
Technique: Silkscreen.
Paper : Guarro Biblos 250 g.
Edition of: 50.
Year 2013.
SKU: ROJ143.
Signed: Yes.
COA (Certificate of Authenticity): Yes.
Condition: Excellent.
Framed: No.
Message us with any questions.