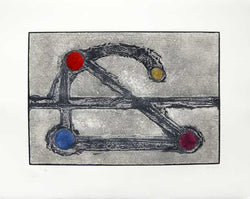 Vicente ROJO, "Primera Letra", Collagraph (ROJ132)
Author: Vicente ROJO.
Title: Primera Letra.
Medium: Limited Edition Print.
Technique: Collagraph.
Image Size: 34 x 49 cm.
Overall Size: 51 x 65 cm.
Paper : Velin Arches 300 g.
Edition of: 30.
Year 2010.
Catalog: ROJ132.
Signed: Yes.
COA (Certificate of Authenticity): Yes.
Condition: Excellent.
Framed: No.
Message us with any questions.