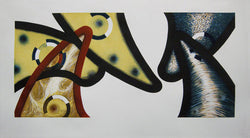 Víctor GUADALAJARA, "Intersecciones", Mixed (GUA333)
Author: Víctor GUADALAJARA.
Title: Intersecciones.
Medium: Limited Edition Print.
Mixed technique.
Procedure: Aquatint to sugar, dry point and woodcut.
Image Size: 79 x 170 cm. (31 x 67 in.).
Overall Size: 100 x 185 cm. (39½ x 72¾ in.).
Paper : Velin Arches 300 g.
Edition of: 30.
Year 2009.
SKU: GUA333.
Price: $3,500 USD.
Signed: Yes.
COA (Certificate Of Authenticity):Yes.
Condition:  Excellent.
Framed: No.
Message us with any questions.