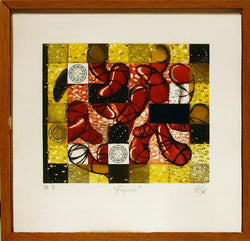 Víctor Guadalajara, "Suite Memoria" (wooden case), 2008
Author: Víctor GUADALAJARA.
Title: Suite Memoria.
Description: Box with 8 engravings signed and numbered.
Medium: Limited Edition Print.
Technique: Metal engraving.
Procedure: Aguatuerte, aguatinta al azúcar, puntaseca, relief and chine collé.
Image Size: 35 x 41 cm. (13¾ x 16 in.).
Overall Size: 53.5 x 56 cm. (21 x 22 in.).
Paper : Velin Arches 300 g.
Edition of: 15.
Year 2008.
SKU: GUA321.
Signed: Yes.
COA (Certificate Of Authenticity):Yes.
Condition:  Excellent.
Framed: No.
Message us with any questions.